FROM SOVEREIGNTY TO SERVICE: THEOLOGY'S ENGAGEMENT WITH THE LIBERAL ARTS
A CONFERENCE PRESENTED BY THE TST GRADUATE STUDENTS' ASSOCIATION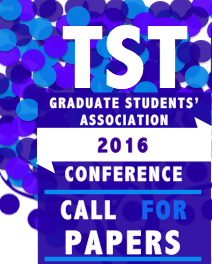 As graduate education at the Toronto School of Theology develops conjointly with the University of Toronto, students at TST find themselves immersed in work that has historically laid claim to the sovereignty of the whole university's curriculum, particularly that of the Faculty of Arts and Science. At the same time, theology's presence in the modern research university is frequently obscure, and, where flourishing, portrayed in tension with dominant methodological trends in the liberal arts, of no use in seeking after truth. Availing themselves of this opportunity, the organising committee of the 2016 TGSA Conference, entitled From Sovereignty to Service: Theology's engagement with the Liberal Arts, to be held on Friday, March 11, 2016, invite submissions on a range of topics related to current student work and the theme of theological engagement with the liberal arts curriculum in an attitude of service. Where has conflict erupted, and why? How can theology indispensably serve the liberal arts (including the humanities, social sciences, pure and applied sciences) once more? Where are theological insights needed? Where are they already being proclaimed? What can the liberal arts teach theology? How do we usefully do theology in the university? Biblical, theological, historical, or pastoral, as well as interdisciplinary, considerations of these, and related questions, are most encouraged.
The conference will feature a keynote address to be delivered by Professor James R. Ginther, Dean of the Faculty of Theology, University of St Michael's College.
Students may submit proposals in different formats. Examples include: 1) individually delivered papers in 20/20 format (i.e., 20 minute presentations and 20 minute Q&A period to follow), or 2) panel proposals consisting of multiple presenters sharing research on a common theme. The structure of presentations may take any form consented to by the TGSA, for a total allotment of 80 minutes.
Submit a Proposal that includes:
Title of presentation
Proposal of about 250 words, including the problem you propose to tackle, how will you address the conference theme of theological engagement with the liberal arts, the direction of the contributions you wish to make, and how you plan to foster dialogue both among the other presenters, and the audience (include a breakdown of time allotted to each dimension of the panel)?
Requests for A/V equipment
In a covering message please include: names of all presenters, institutional affiliation, degree programme and current status, contact information.
All proposals should be submitted by email attachment by Sunday, January 31, 2016 to Jonathan Lofft, jonathan.lofft@mail.utoronto.ca.