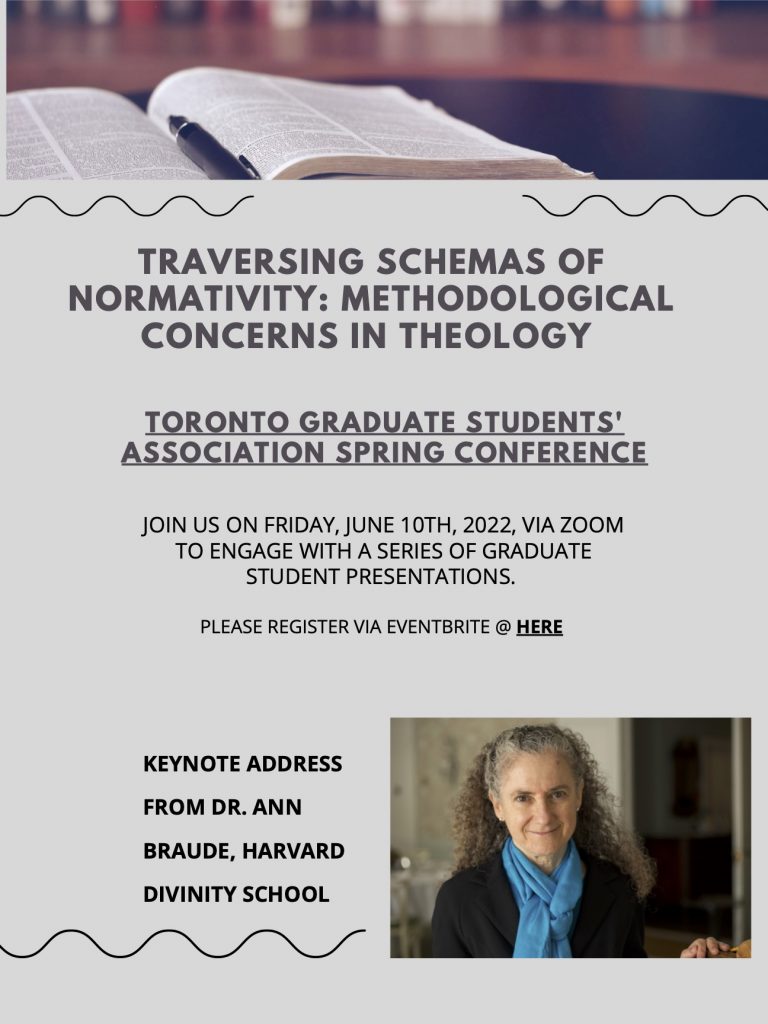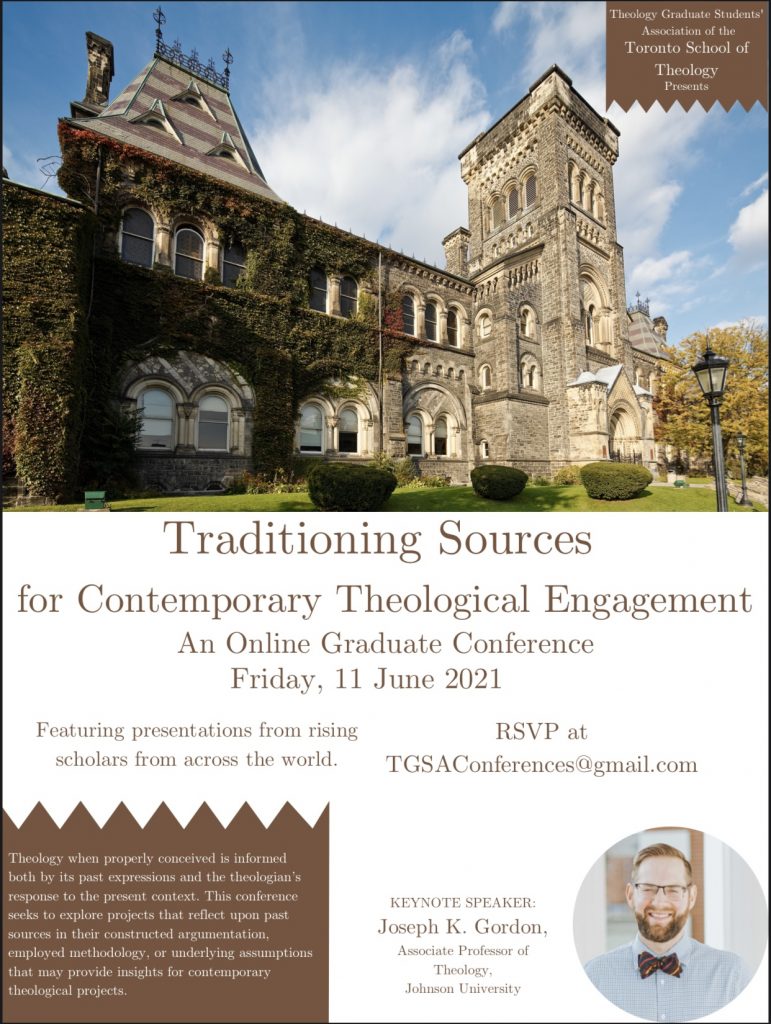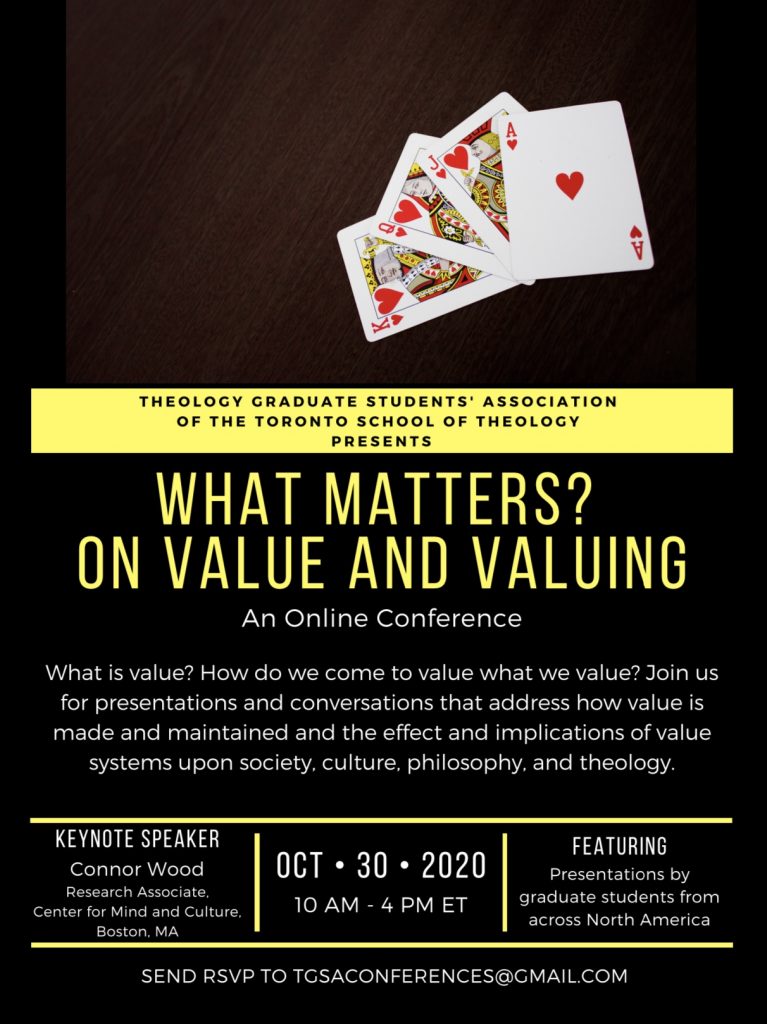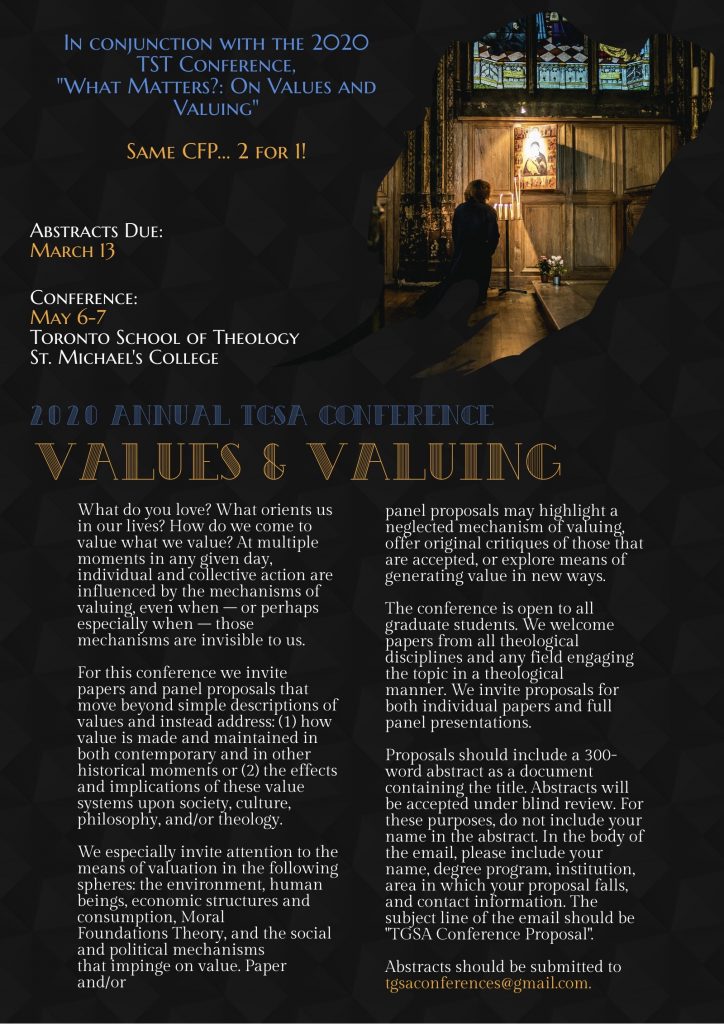 Past Conferences
2019:The Role of the Bible in Theological Studies
Keynote Lecture: Theology and the Body of Moses: The Angelic Vocation of Preserving and Contending over Scripture
Keynote Speaker: Ephraim Radner, Professsor of Historical Theology, Wycliffe College
Plenary Panel:How Do You as a Scholar Understand the Place and Role of Theology in Your Engagement, Professional or Personal, with the Bible? Has Your Understanding Changed Over Time?
Plenary Panel Speakers:
Dr. Jonathan Bernier, Director, Lonergan Research Institute and Assistant Professor of New Testament at Regis College
Dr. Marion Taylor, Professor of Old Testament and Graduate Director, Wycliffe College
Dr. Brian A. Butcher, Lecturer and Research Fellow, Metropolitan Andrey Sheptytsky Institute of Eastern Christian Studies in the University of St. Micheal's College
2018: Privilege, Identity, Intersectionality: Global Theological Discourse
Keynote Speaker:Dr. Klaas Kraay Professor of Philosophy, Ryerson University
2017: Knowledge and Power in Theological Education
2016: From Sovereignty to Service: Theology's Engagement with the Liberal Arts
Keynote Speaker: Prof. James R. Ginther, Dean of Theology, Professor of Theology, University of St. Micheal's College Faculty of Theology
2015: Jewish/Christian Inter-Religious Dialogue
Keynote Speaker: Prof. Rabbi David Novak, J.Richard and Dorothy Schiff Chair of Jewish Studies, Professor of Religion and Philosophy, University of Toronto
2014: Spirituality and Sexuality
Keynote: Prof. Ellen Armour, E. Rhodes and Leona B. Carpenter Chair in Feminist Theology, Director of the Carpenter Program in Religion, Gender, and Sexuality, Associate Professor of Theology and Philosophy, Vanderbilt Divinity School.